Engineering students at Central Bedfordshire College are thrilled to have the opportunity to extend their practical industry knowledge using top-of-the-range machines donated by Amazon.
Former Central Bedfordshire College student, Edward Waymark, now works as a Senior Reliability Maintenance Engineering Technician for Amazon.
Having kickstarted his career with an apprenticeship through the college, Mr Waymark kindly coordinated the donation of a lathe, a milling machine and a grinding station with vacuum to his alma mater. He visited the students at Central Bedfordshire College's dedicated engineering and motor vehicle campus on Luton Road to present the machines and speak to the students about how his college experience prepared him for his career with Amazon.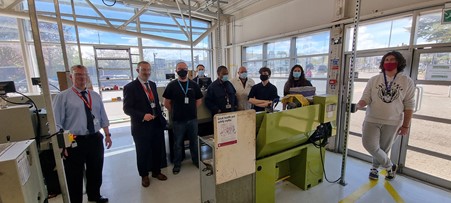 Learning Area Manager for Technology and the Built Environment, Louise Marriott, added,
"This extraordinarily generous donation from Amazon has been fantastic for our students, who are now using the machines daily for training and assessment."