Overview
Musical Theatre Advanced (Level 3)
This course will provide you with the opportunity to explore, develop and test your creativity within a qualification structure which is stimulating, demanding and supportive. In order to develop the necessary performance skills, you will undergo a programme of training, exercises and activities across the three core disciplines of Acting, Singing and Dance, which will equip you for working within a range of performance situations. You will be introduced to the professional world of the Performing Arts Industry in theory sessions; where you will learn vital skills in research, context, reflection and analysis to inform your creative practice. In addition you will have the opportunity to participate in professional workshops, trips, visits and talks as part of your study programme; providing you with real insight into this exciting area of the industry. Throughout the course you will develop a 'toolkit' of essential skills and techniques as a foundation for your personal and professional progression.
Available Courses

Bedford College

| | |
| --- | --- |
| Starts: | 11/09/2023 |
| Type: | Full Time |
| Length: | 2 years |

| | |
| --- | --- |
| Day(s): | Monday, Tuesday, Wednesday, Thursday, Friday |
| Time(s): | 9:00am - 4:30pm |

Apply now

Tresham College Kettering Campus

| | |
| --- | --- |
| Starts: | 11/09/2023 |
| Type: | Full Time |
| Length: | 2 years |

| | |
| --- | --- |
| Day(s): | Monday, Tuesday, Wednesday, Thursday, Friday |
| Time(s): | 9:00am - 4:30pm |

Apply now
Disclaimer
Whilst every effort is made to ensure the information on the Website is correct, some details may be subject to change. The Bedford College Group reserves the right to make amendments to the courses, dates, fees or other details, and to make cancellations or changes if numbers are insufficient. In the unfortunate situation that we have to cancel a course we will refund your fees in full, but we regret we are not able to offer any refund if you withdraw from your course or fail to start, and you will be liable to pay any outstanding fees that may be due.
Funding Information
All full-time Level 1 and Level 2 courses are now FREE for everyone, whatever their age. If you are looking to study a Level 3 qualification, courses are still free if you're under 19 or 19-23 and studying your first full Level 3 qualification. If you're over 23 or studying a second Level 3 qualification, you will need to pay a fee. Find out more on our financial support page at: www.bedfordcollegegroup.co.uk/finance or view the Full-time Fee Flow Chart below.
If you are unsure whether you need to pay or not then please contact our Customer Contact team on 0345 658 8990.
Full-time Fee Flow Chart
If you are aged 19 or over you may qualify for an Advanced Learner Loan to help you pay the tuition fees for this course. You can also pay by instalments to help make the cost of this course more affordable.
Find out more
If you live in any of the following areas and wish to apply for or enrol onto one of our courses, please contact our Customer Contact team on 0345 658 8990 to check if your course is funded or not (Please note that if your course is not funded then you will pay a higher fee than what is listed, please contact our Customer Contact team for more information):
Cambridgeshire and Peterborough
Greater Manchester
Greater London
Liverpool City Region
Tees Valley
West of England
West Midlands
Sheffield
Newcastle Upon Tyne
Barnsley and Doncaster
West Yorkshire
Find out more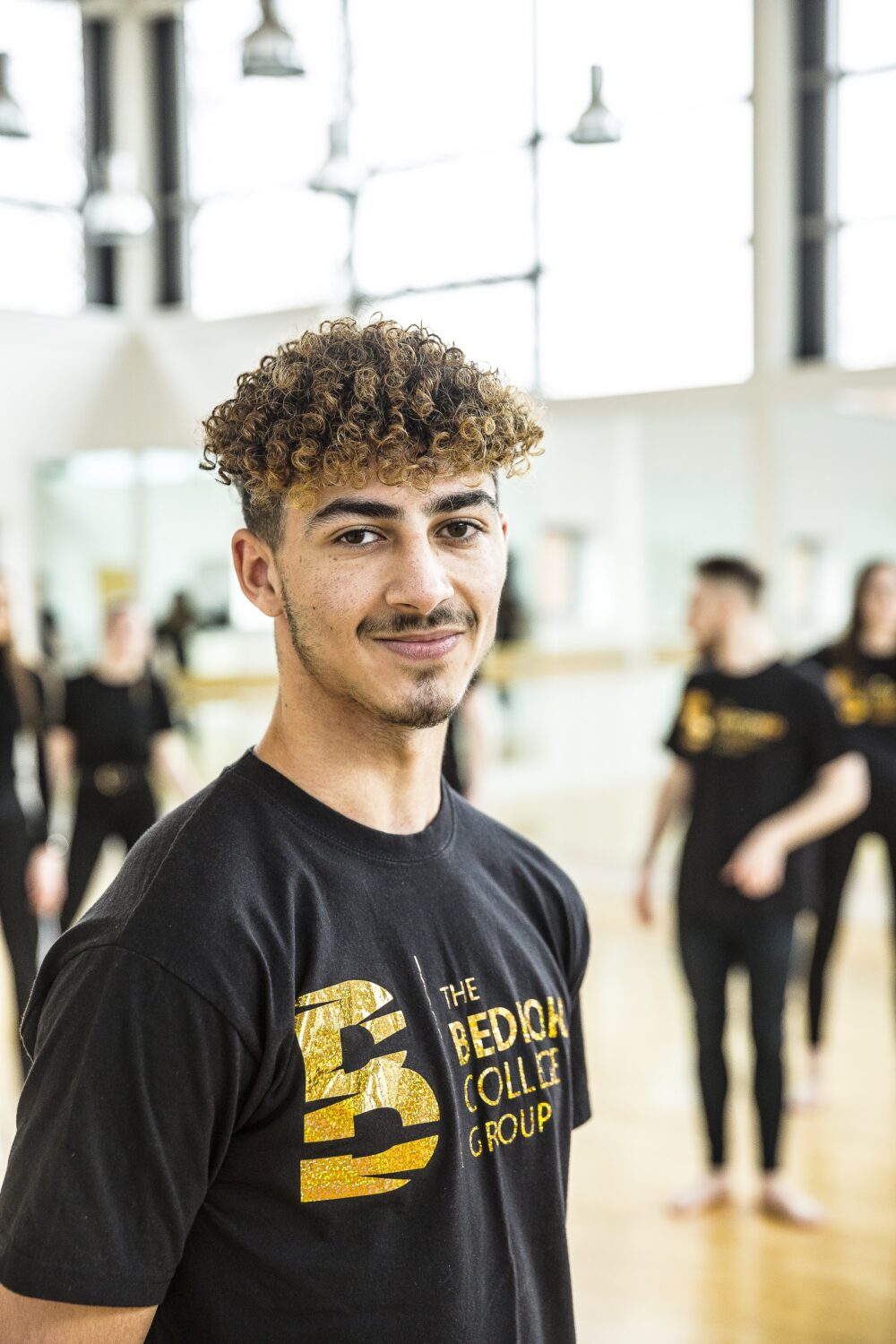 Performing Arts
Dontay
My interest in dance started from watching movies and videos when I was growing up, and I've done street and commercial dance ever since. Although I've been dancing all my life, I still wasn't sure if I'd have the confidence to go and do it at college.  
I came to Bedford College for an interview and the tutors here were so encouraging and motivating that I haven't looked back. I've had to learn different dance styles, such as Ballet, which I really enjoy, and have been getting out of my comfort zone with the Musical Theatre elements, which teach you to be more versatile ready for industry training; something the professional schools will look for.  
Our tutors have so much industry knowledge and they give the best advice. It's more professional and intense compared to school, and I've made friends who I know will be with me for the rest of my life.  
I would love to become a professional dancer; I want to get into commercial work and dance behind a pop star! The shows that we get to perform in at College give us great experience. It's a chance to take our choreography and create something we can perform to friends and family.  
We cross over with other College departments including Production and Media Make-Up to give a good all round experience. We've performed in Ghost, the Musical, and an End of Year Dance Show, as well as at the College Achievements' Ceremony at the Corn Exchange and at the Bedford River Festival. We've also delivered workshops to local schools and been to the London Studios and to the West End to see Chicago.  
Additional Learning Support
If you have a specific learning difficulty or disability, are deaf or hearing impaired, our Additional Learning Support team are on hand to give you assistance whenever you need it.
Autism & Asperger's Syndrome Support
We are committed to developing the provision for students on the autistic spectrum, including Asperger's Syndrome.
Accessibility
We have access arrangements in place to help students with disabilities or any other particular needs. Call us on 01234 291000 or 01536 413123 for more information.
Additional formats
Course information sheets are also available in large print and audio formats. Call us on 01234 291000 to order your copy.