Overview
Graphic Design Advanced (Level 3)
This UAL Awarding Body program will introduce the skills, knowledge and understanding necessary to progress to degree-level study in art and design, or employment. Based in a dedicated building equipped with the latest industry relevant resources and taught by staff with a high degree of industry experience in their field.
Course information
Need to know
Entry requirements
4 GCSEs grades 9-4 OR equivalent.
What qualification will I gain?
UAL Applied General Diploma and Extended Diploma in Art and Design (Level 3).
How will I be assessed?
This qualification is assessed through:
Year 1:
one external assessment taken at the end of the course, which is set and marked by UAL Awarding Body.
Year 2:
one internally assessed project taken at the end of the second unit, which is marked by the centre and moderated by UAL Awarding Body.
Throughout you will be given critical, holistic feedback supporting your progress.
Course content
Year 1: Unit 1: Diagnostic Investigation in Art and Design
Year 2: Unit 2: Specialist Practice in Art and Design
In the first year you will be introduced to the basics of the creative structure.
Year 1 is an introduction to the elements that underpin development and understanding of your subject (practical, research, contextual) through a diverse range of activities within layout, typography, image manipulation and more.
Term 3 gives you the chance to work on a set graded project that will utilise the knowledge from the first two terms. Your overall grade for the year will be taken from this final unit. This final grading is also repeated in second year.
Year 2 allows you to expand on your knowledge, developing skills and creating a unique style for your portfolio. This will include exhibitions, live briefs and a focus on the working world of design.
Within the program you will also attend tutorial sessions and undertake a minimum of 20 hours work experience [in previous years this has included working with national book festivals, fire and rescue services and other high profile clients]. You will also have opportunity to exhibit and enter competitions.
Next steps
Course progression:
On successful completion you could progress on to the HE Graphic Design program at Bedford College or go on to an Art & Design related degree at a university.
Past students have studied at illustrious institutes such as Brighton, Norwich, Central St. Martins etc.
Career progression:
Graphic designer, art director, creative director or diversify to book cover designer, packaging designer, digital designer, UI designer, web designer, web developer, motion designer, animator, 3D designer, VR designer.
Additional information
You will need a number of sketchbooks over the 2 years (A4 or A3 are recommended). Resources are available for you, but you should have basic materials at home
Trip fees are likely to be around £60 per year.
Any questions?
If you would like to find out more about this or other courses, please use our Livechat below, or  contact info@bedfordcollegegroup.ac.uk.
Available Courses

Bedford College

| | |
| --- | --- |
| Starts: | 11/09/2023 |
| Type: | Full Time |
| Length: | 2 years |

| | |
| --- | --- |
| Day(s): | Monday, Tuesday, Wednesday, Thursday, Friday |
| Time(s): | 9:00am - 5:00pm |

Apply now

Tresham College Kettering Campus

| | |
| --- | --- |
| Starts: | 11/09/2023 |
| Type: | Full Time |
| Length: | 2 years |

| | |
| --- | --- |
| Day(s): | Monday, Tuesday, Wednesday, Thursday, Friday |
| Time(s): | 9:00am - 4:30pm |

Apply now
Disclaimer
Whilst every effort is made to ensure the information on the Website is correct, some details may be subject to change. The Bedford College Group reserves the right to make amendments to the courses, dates, fees or other details, and to make cancellations or changes if numbers are insufficient. In the unfortunate situation that we have to cancel a course we will refund your fees in full, but we regret we are not able to offer any refund if you withdraw from your course or fail to start, and you will be liable to pay any outstanding fees that may be due.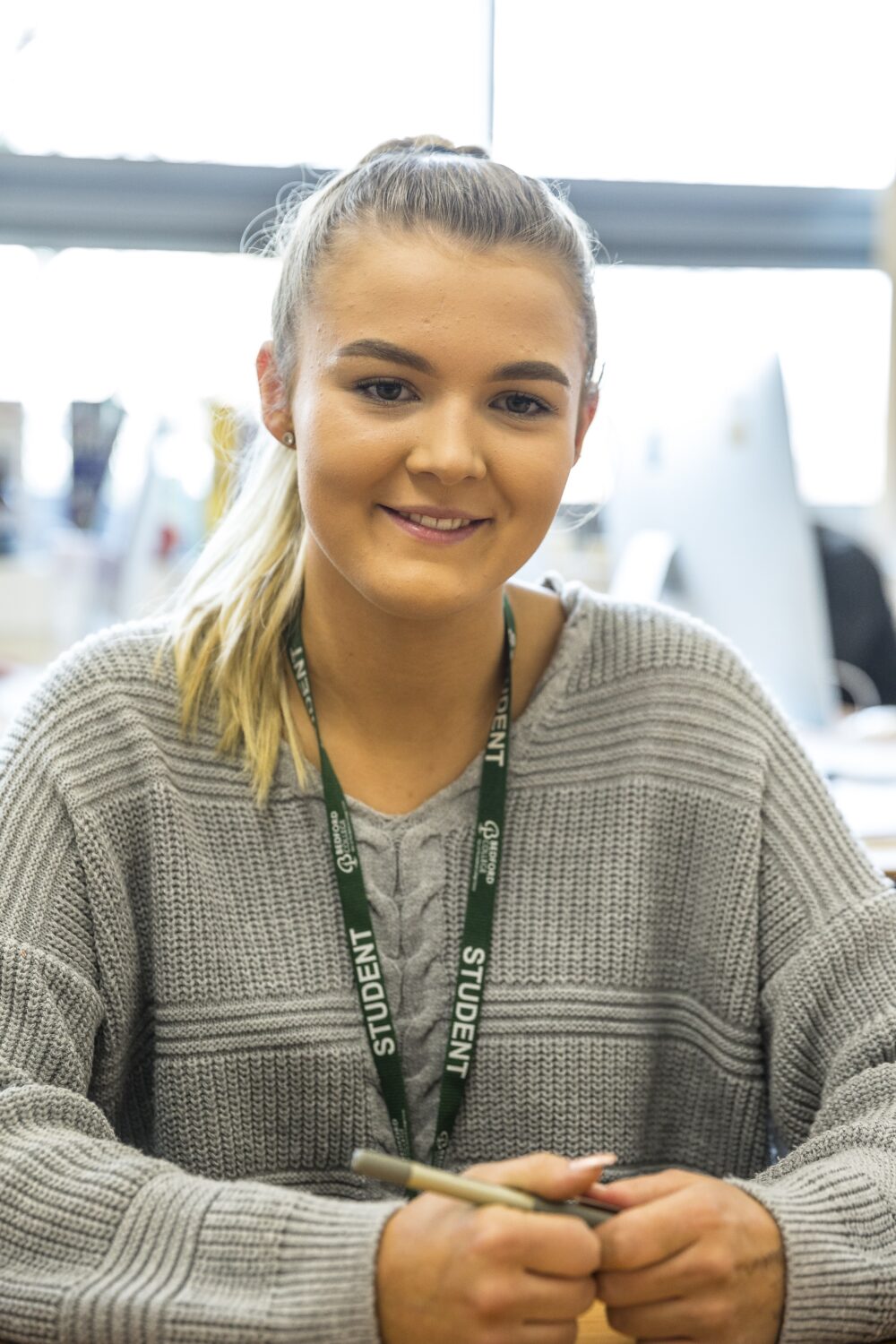 Art & Design
Lauren
I love studying Graphic Design because you can be really playful with your work. When I visited Bedford College on an open day, I saw the work that current students were producing and thought it was really good. The tutors told me that I could achieve the same and, although I hadn't studied Graphics at school, I wanted to push myself. 
Our tutors always give us a clear vision of what might work, but never pin us down to one idea – you choose what goes into your coursework book and how you develop your ideas. I was really proud of my final major project last year. The brief was 'cities' and I produced a London architecture booklet; it was a great excuse to go down to London for research, too!
I got myself a one-week work experience placement at a global brand agency in London, who work on projects for big brands such as Jaguar Land Rover and Harvey Nichols. I sat in on some meetings and worked alongside two Graphic Designers who I have remained friends with. They have told me to stay in touch and, in the meantime, I want to stay on at College, perhaps for the Higher National Certificate (HNC), or find an apprenticeship.  
When I started the study programme I wanted to design magazines for a living, but being at College has opened up my eyes to so many more options. I now know I don't want to be stuck in an office doing the same thing every day; I want to be able to express my own ideas and be given briefs to design something really cool.  
Funding Information
All full-time Level 1 and Level 2 courses are now FREE for everyone, whatever their age. If you are looking to study a Level 3 qualification, courses are still free if you're under 19 or 19-23 and studying your first full Level 3 qualification. If you're over 23 or studying a second Level 3 qualification, you will need to pay a fee. Find out more on our financial support page at: www.bedfordcollegegroup.co.uk/finance or view the Full-time Fee Flow Chart below.
If you are unsure whether you need to pay or not then please contact our Customer Contact team on 0345 658 8990.
Full-time Fee Flow Chart
If you are aged 19 or over you may qualify for an Advanced Learner Loan to help you pay the tuition fees for this course. You can also pay by instalments to help make the cost of this course more affordable.
Find out more
If you live in any of the following areas and wish to apply for or enrol onto one of our courses, please contact our Customer Contact team on 0345 658 8990 to check if your course is funded or not (Please note that if your course is not funded then you will pay a higher fee than what is listed, please contact our Customer Contact team for more information):
Cambridgeshire and Peterborough
Greater Manchester
Greater London
Liverpool City Region
Tees Valley
West of England
West Midlands
Sheffield
Newcastle Upon Tyne
Barnsley and Doncaster
West Yorkshire
Find out more
Additional Learning Support
If you have a specific learning difficulty or disability, are deaf or hearing impaired, our Additional Learning Support team are on hand to give you assistance whenever you need it.
Autism & Asperger's Syndrome Support
We are committed to developing the provision for students on the autistic spectrum, including Asperger's Syndrome.
Accessibility
We have access arrangements in place to help students with disabilities or any other particular needs. Call us on 01234 291000 or 01536 413123 for more information.
Additional formats
Course information sheets are also available in large print and audio formats. Call us on 01234 291000 to order your copy.