Overview
Art & Design Fine Art Advanced (Level 3)
This UAL Awarding Body program will introduce the skills, knowledge and understanding necessary to progress to degree-level study in art and design, or employment. Based in a dedicated building equipped with the latest industry relevant resources and taught by staff with a high degree of industry experience in their field.
Course information
Need to know
Entry Requirements
4 GCSEs grades 9-4 OR equivalent.
What qualification will I gain?
UAL Applied General Diploma and Extended Diploma in Art and Design (Level 3).
How will I be assessed?
This qualification is assessed through:
Year 1:
one external assessment taken at the end of the course, which is set and marked by UAL Awarding Body
Year 2:
one internally assessed project taken at the end of the second unit, which is marked by the centre and moderated by UAL Awarding Body
Throughout you will be given critical, holistic feedback supporting your progress.
Course content
Year 1: Unit 1: Diagnostic Investigation in Art and Design.
Year 2: Unit 2: Specialist Practice in Art and Design.
In the first year you will be introduced to the basics of the creative structure.
Year 1 is an introduction to the elements that underpin development and understanding of your subject (practical, research, contextual) through a diverse range of activities within painting, drawing, print, collage, 3D, experimental photography etc.
Term 3 gives you the chance to work on a set graded project that will utilise the knowledge from the first two terms. Your overall grade for the year will be taken from this final unit. This final grading is also repeated in second year.
Year 2  allows you to expand on your knowledge, developing skills and creating a unique style for your portfolio. This will include exhibitions, vocational assignments and student devised projects expanding on tasks of your choosing. Most themes are based around personal or social themes.
Within the program you will also attend tutorial sessions and undertake a minimum of 20 hours work experience (in previous years this has included working with artists at Tate Modern and designing record covers).
You will also have opportunity to exhibit [such as with the Brooklyn Library Sketchbook Project] and enter competitions (where we have had continuous success at Royal Academy Young Artists and UAL Origin).
Next steps
Course progression:
On successful completion you could progress on to the HE Creative Arts Practice program at Bedford College or go on to an Art & Design related degree at a university. Past students have studied at illustrious institutes such as Goldsmiths, Camberwell, Wimbledon etc.
Career progression:
Due to the diverse nature of the course past students have gone on to have varied careers in the Art and Design field, as artists, illustrators, photographers, documentary film makers, restorers, teachers, prosthetics, tattooists  etc.
Additional information
You will need a number of sketchbooks over the 2 years (A4 or A3 are recommended). Resources are available for you, but you should have basic materials at home.
Trip fees are likely to be around £60 per year. This usually covers at least 3 trips to locations such as Tate (Britain/ Modern) RA, dependent on current exhibitions and a variety of degree shows.
Any questions?
If you would like to find out more about this or other courses, please use our Livechat below, or  contact info@bedfordcollegegroup.ac.uk.
Available Courses

Tresham College Kettering Campus

| | |
| --- | --- |
| Starts: | 11/09/2023 |
| Type: | Full Time |
| Length: | 2 years |

| | |
| --- | --- |
| Day(s): | Monday, Tuesday, Wednesday, Thursday, Friday |
| Time(s): | 9:00am - 4:30pm |

Apply now

Bedford College

| | |
| --- | --- |
| Starts: | 11/09/2023 |
| Type: | Full Time |
| Length: | 2 years |

| | |
| --- | --- |
| Day(s): | Monday, Tuesday, Wednesday, Thursday, Friday |
| Time(s): | 9:00am - 5:00pm |

Apply now

Tresham College Corby campus

| | |
| --- | --- |
| Starts: | 11/09/2023 |
| Type: | Full Time |
| Length: | 2 years |

| | |
| --- | --- |
| Day(s): | Monday, Tuesday, Wednesday, Thursday, Friday |
| Time(s): | 9:00am - 4:30pm |

Apply now
Disclaimer
Whilst every effort is made to ensure the information on the Website is correct, some details may be subject to change. The Bedford College Group reserves the right to make amendments to the courses, dates, fees or other details, and to make cancellations or changes if numbers are insufficient. In the unfortunate situation that we have to cancel a course we will refund your fees in full, but we regret we are not able to offer any refund if you withdraw from your course or fail to start, and you will be liable to pay any outstanding fees that may be due.
Funding Information
All full-time Level 1 and Level 2 courses are now FREE for everyone, whatever their age. If you are looking to study a Level 3 qualification, courses are still free if you're under 19 or 19-23 and studying your first full Level 3 qualification. If you're over 23 or studying a second Level 3 qualification, you will need to pay a fee. Find out more on our financial support page at: www.bedfordcollegegroup.co.uk/finance or view the Full-time Fee Flow Chart below.
If you are unsure whether you need to pay or not then please contact our Customer Contact team on 0345 658 8990.
Full-time Fee Flow Chart
If you are aged 19 or over you may qualify for an Advanced Learner Loan to help you pay the tuition fees for this course. You can also pay by instalments to help make the cost of this course more affordable.
Find out more
If you live in any of the following areas and wish to apply for or enrol onto one of our courses, please contact our Customer Contact team on 0345 658 8990 to check if your course is funded or not (Please note that if your course is not funded then you will pay a higher fee than what is listed, please contact our Customer Contact team for more information):
Cambridgeshire and Peterborough
Greater Manchester
Greater London
Liverpool City Region
Tees Valley
West of England
West Midlands
Sheffield
Newcastle Upon Tyne
Barnsley and Doncaster
West Yorkshire
Find out more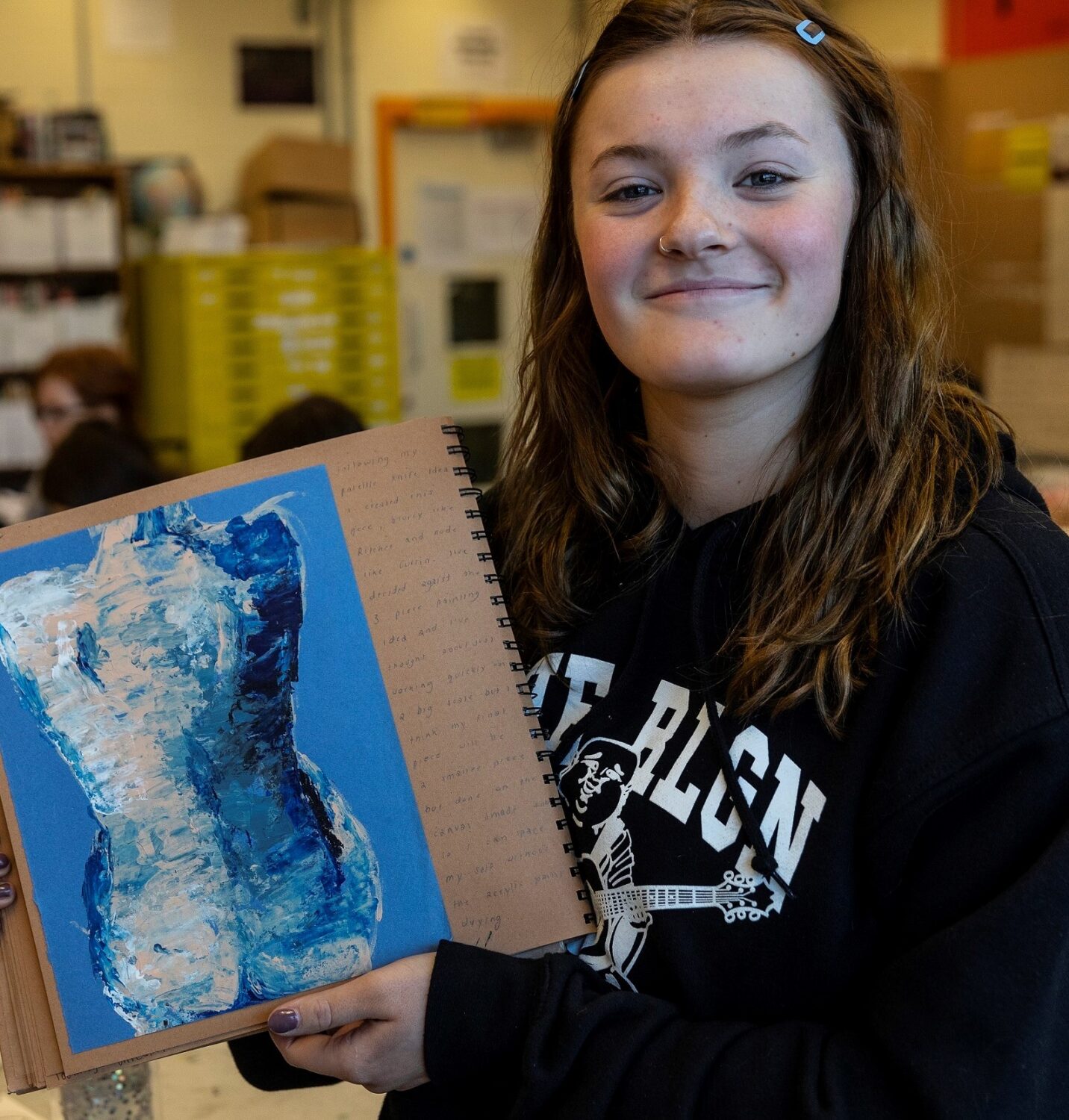 Art & Design
Charlotte
I enjoyed studying lots of art-based subjects at GCSE, including Art, Drama, Textiles and Film Studies. When I came to visit the College to look at my options post-GCSE I saw lots of variety within the art department and felt the tutors were very supportive.
It's been the best decision I've made. College offers a completely different environment to school. I love learning and being in education, so I am considering going on to university after College.
My creative juices are certainly flowing here at College because I have the freedom to explore my own ideas with the support of my tutors. The deadlines are realistic, so the pressure is not too high, but you're still motivated to work hard. I am inspired by other people's art and I particularly enjoy Renaissance art.
I'm planning to do my work experience in the art department of the middle school I currently work at. I enjoy helping others with their work, so I'm considering a career in teaching or within a museum.
Additional Learning Support
If you have a specific learning difficulty or disability, are deaf or hearing impaired, our Additional Learning Support team are on hand to give you assistance whenever you need it.
Autism & Asperger's Syndrome Support
We are committed to developing the provision for students on the autistic spectrum, including Asperger's Syndrome.
Accessibility
We have access arrangements in place to help students with disabilities or any other particular needs. Call us on 01234 291000 or 01536 413123 for more information.
Additional formats
Course information sheets are also available in large print and audio formats. Call us on 01234 291000 to order your copy.