Health Education England has recognised dentist surgeries which are currently working with Bedford College to increase Dental Nurse apprenticeship opportunities.
Dr Maria Ross-Russell, Associate Postgraduate Dean for Health Education England Midlands East joined special certificate presentations in Bedford and Sandy earlier last month.
At Midland Road Dental Surgery in Bedford, Dr Shirley Ampah and Dr Edward Willis welcomed Dr Ross-Randall and Sam Morgan, from Bedford College to accept a Platinum Certificate from the college as a mark of appreciation for the investment they had made in training their staff.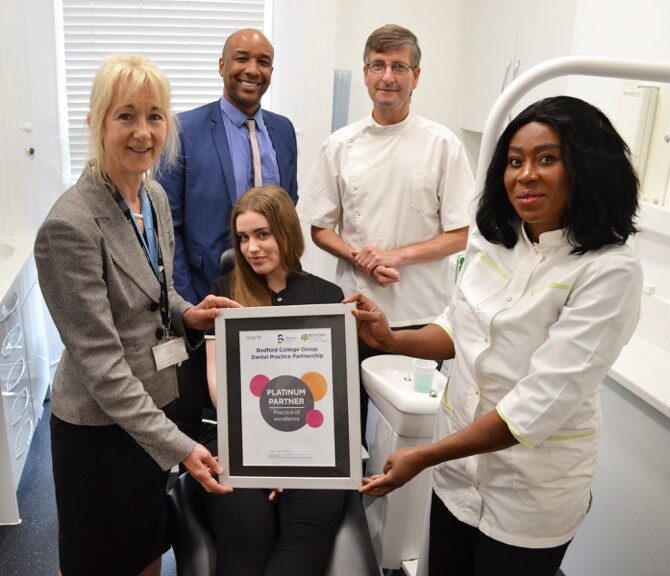 Laura Purcell, 17, a Level 2 Working in Dental Setting student is among three who are progressing on to an apprenticeship as a Dental Nurse in local surgeries.
Similarly at Sandy Dental Care Dr Uday Patel and team (Monica Cross Personnel and Patient Manager and Karen Webb Business Manager) were presented with a certificate because of their organisation's commitment to training for the whole team.
Sam Morgan, Dental Programmes and Project Manager, said: "Bedford College launched the Level 2 Dental Nurse course last year with eight students and now three are going on to apprenticeships and the rest progressing on to the new Level 3 course. This September there will be even more opportunities following on from the course as more dental surgeries recognise the value of training their own quality staff.
This course is a great opportunity to get a head start into a much sought after career."
Karen Campbell, Director of Adult and Community Learning and Social Studies, added:
"I am delighted at how this provision is progressing. It gives more choice to those who wish to pursue a career in the health sector either in a full-time study programme or apprenticeship. We are excited to now be offering the Level 3 Dental programme from September 2019."